Route no.1
Udaipur – Ranakpur ("Aravalli Nature and Wildlife Safari")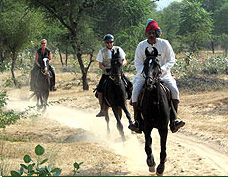 This ride takes place before the backdrop of the Aravalli Mountains. The terrain is hilly till mountainous with a varied thickness of vegetation. In the beginning the trail leads through small mountain villages where traditional farming is still practiced, but as the riders penetrate deeper into the mountains, human habitation becomes scarce. Finally the riders will enter the Kumbhalgarh Wildlife Sanctuary where they will be able to observe a great variety of birds and animals as well as admire virgin dry deciduous forest.

Number of days: 5
Accommodation: Tented camps or heritage/resort hotels

Visit: On this route the riders will visit some of the most famous sights of southern Rajasthan. Eklingji,Nagda and Sas-Bahu temples are ancient temples, featuring exquisite stone carving. The Sas-Bahu temple is also nicknamed Little Khajurao. In Haldi Ghati the Maharana Pratap Museum can be visited and of course the Chetak samadi, which marks the death place of this famous horse. Finally the riders will reach the famous Kumbhalgarh Fort , one of the most-important forts of Mewar, perched high on a hilltop in the Aravalli Mountains.

The trail will continue its way through the Kumbhalgarh Wildlife Sanctuary , famous for being one of the last successful breeding ground of the wolf in India. Other animals to be seen are leopard, panther, wild boar, sloth bear, sambar and nilgai. While riding through the Sanctuary the riders can spot countless birds and experience virgin dry deciduous forest, once common all over the Aravalli Mountains.

The safari carries on to Ranakpur , where the famous Jain temple is located. It is the biggest and most famous Jain temple in Rajasthan, built in 1439, renowned for its delicate carving.


Terrain: Mostly hilly, some valleys and plains, generally forest vegetation
Pace of ride: A lot of climbing, but in between long trots and canters.
-----------------------------------------------------------------------------------------------------------------------------

Route no. 2
Kumbhalgarh – Ranakpur ("Castle to Castle Safari")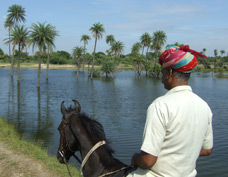 This luxurious safari takes place around the Kumbhalgarh Wildlife Sanctuary in the Aravalli Mountains. The terrain is hilly till mountainous with a varied thickness of vegetation. The riders will be able to observe a great variety of birds and animals while riding through the Sanctuary. Accommodation will be in well-appointed Heritage/Resort hotels, giving the safari a lavish touch.

Number of days: 4
Accommodation: Heritage/Resort Hotels
Visit:This route leads from the prominent Kumbhalgarh Fort to the exquisite Jain temple of Ranakpur . The riders have a chance of visiting the Fort before the ride starts and continue their way through the Kumbhalgarh Wildlife Sanctuary. On the way to Ranakpur another two interesting and worth seeing rawlas (forts) will be visited. Ganerao Rawla and Narli Rawla. Finally the riders will reach the Jain temple in Ranakpur, the finishing point of the safari.

Terrain: Hilly till mountainous and stretches of open country, mostly forest vegetation
Pace of ride: A lot of climbing, in between long trots, slow canters
-----------------------------------------------------------------------------------------------------------------------------
Route no.3
Udaipur – Pushkar ("Pushkar Fair Safari")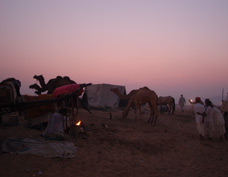 This safari takes place on the occasion of the Pushkar Camel Fair (October/November) and leads the riders from the heights of the Aravalli Mountains to the sandy plains of the Thar Desert. The terrain varies from day to day. In Pushkar itself the riders can visit and ride over the Camel Fair. This is the ultimate way of getting to and experiencing the Pushkar Fair.

Every year up to 100,000 camels, cattle and horses are brought to Pushkar, making this fair the biggest in Rajasthan. Thousands of people flock to attend the festivities, the religious celebrations and the life-stock trading. The sleepy town of Pushkar becomes a flurry of activity with camel and horse races, street theatre and a variety of stalls selling almost everything. Jugglers, musicians, comedians, tourists, traders, animals and devotees, all come together for a couple of days in this Fair. As written in the Lonely Planet "it is truly a feast for the eyes and should not be missed if you are anywhere near".

The Pushkar Fair is the only one of its kind in the world and is one of India's most colorful and vibrant festivals. Featured in numerous magazines, travel shows and films, it is definitely worth attending.

Number of days: 8
Accommodation: Tented camps
Visit: On this route the riders have the opportunity of seeing a lot of fascinating forts and palaces on the way (e.g. in Jhormuda and Kharwa ). The absolute highlight of this safari however is the Pushkar Camel Fair . Already some days before reaching Pushkar, the riders will encounter herds of cattle and flocks of camels being guided to the fair. Very often nomads, wandering from fair to fair with their animals can be spotted. They are very colorful, the men with bright turbans and the women in gaudy saris.
On the way the riders pass through a number of villages where they can observe traditional handicrafts such as pottery, weaving or wooden work.

Terrain: From the Aravalli Hills to the flat sandy plains
Pace of ride: First slow with a lot of climbing, then long trots, canters and occasional gallops in the sandy desert plain.
-----------------------------------------------------------------------------------------------------------------------------

Route no.4
Chittorgarh - Bundi ("Aravalli Nature Trail")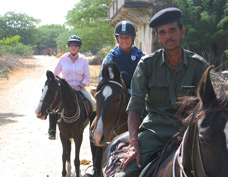 This safari takes place in the beautiful scenery landscape of the lower southeastern Aravalli Mountains. Here the landscape varies from green and lush valleys to dry and moon-like ravines. The riders can observe a great variety of wildlife and birds. Besides it is also an expedition to the lesser visited, nevertheless worth seeing, historical towns of Chittorgarh and Bundi.

Number of days: 8
Accommodation: Tented camps/Heritage Hotels on request

Visit: The riders will visit Chittorgarh; the former capital of Mewar and its most important fortress is a historically most significant and interesting place. Chittorgarh is a symbol of the valor and the chivalry of the Rajputs. It was captured three times in its history and every time the men rather died in the battlefield than surrender to the enemy. They donned yellow robes and rode out in order to die by the sword. The women inside committed jauhar, collective suicide, by burning themselves on a pyre.

On the second day Bussi Fort and its Wildlife Sanctuary can be visited. Bussi Village is famous for a special type of wooden handicraft. Further on the ride, in Menal is a striking and famous waterfall waiting for the riders. Besides they can visit a number of ancient temples from the Gupta period with exquisite stone carving. Before reaching Bundi the riders can visit the old temple complex of Bijolia . Once it was a group of 100 temples, but most of them were destroyed by the Moguls.

Finally the riders will reach the medieval town of Bundi . Visiting Bundi is like stepping back in time. It is a picturesque and captivating little town with surprisingly few tourists. The Rajput legacy is well preserved in the shape of the massive Fort, which is situated on top of a hill overlooking the town. Very attractive as well is the huge palace, which stands beneath it. Bundi is well known for its fine school of miniature painting.

Terrain: Mainly open country and lesser hills. The ride leads through cultivated lush green country as well as through rock-strewn, dry plains.
Pace of ride: Open plains invite for long trots, canters and an occasional gallop.

-----------------------------------------------------------------------------------------------------------------------------

Route no.:5
Around Udaipur ("Jaisamand Tribal Safari")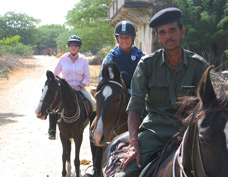 This ride is an interesting tour through the tribal regions in southeastern Rajasthan where the riders can experience the unique culture of the Bhil tribes. The climax of the safari is the stay at Jaisamand, the second-largest man-made lake in Asia. Here it is possible to stay one or more nights so the riders can relax and enjoy the natural beauty of the lake.

Number of days: 7
Accommodation: Tented camps/Heritage Hotels on request

Visit: On this route a number of very interesting tribal villages will be visited. Here the riders can observe their particular style of living and learn more about their culture. Wherever possible they can see their traditional handicrafts or way of farming. Most of these villages are still constructed in the same way than hundreds of years ago. All huts and houses are made of mud and are perched together on the top of a hill, surrounded by a wall of thorn branches. Besides the riders will see the worth-seeing fort of Bambora and the famous temple of Jagat which sports some fine stone carving, including a couple of erotic carvings. Finally the riders will reach the second-largest man-made lake in Asia, Jaisamand Lake . Built by Maharana Jai Singh of Udaipur in the 17 th century, it measures today 14 km in length and 9 km in width. Beautiful marble chhatris and elephants are situated around the dam. The two summer palaces of the former queens of Udaipur are located on top of two hills overlooking the lake. After arrival in the camp the riders are taken on a pleasant boat trip around Jaisamand Lake. The hills neighboring Jaisamand Lake were turned into a wildlife sanctuary featuring a number of animals such as leopards, deer, wild boar and crocodiles. Bird lovers will appreciate the 200 different species of bird found around Jaisamand.

Terrain: Mostly open country with some hilly areas. Strips of thorn forest and rather dry vegetation.
Pace of ride: Long sandy paths invite for trot and canter. Occasionally the riders are able to gallop.
-----------------------------------------------------------------------------------------------------------------------------

Route no.:6
Lake Jaisamand – Sita-Mata Sanctuary ("Mewar Safari Trail")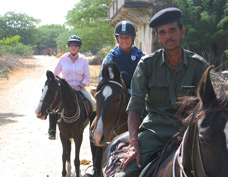 This ride is an interesting tour through the tribal regions in southeastern Rajasthan where the riders can experience the unique culture of the Bhil tribes. The climax of the safari is the stay at Jaisamand, the second-largest man-made lake in Asia. Here it is possible to stay one or more nights so the riders can relax and enjoy the natural beauty of the lake.

Number of days: 6
Accommodation: Camps/Heritage Hotels

Visit: This trail leads around the main range of the Aravalli-Mountains, which is always clearly visible on the horizon. Starting point of the safari is the second-largest man-made lake in Asia, Jaisamand Lake . The riders then continue the ride through the Jaisamand Wildlife Sanctuary where they will be able to spot countless birds and with some luck animals like antelopes or deer or even a leopard. After leaving the sanctuary the terrain becomes more level and open. The soil turns black and very fertile in this part of Mewar. Poppy and opium cultivation can be seen along the way. The riders will visit Jagat temple, famous for its exquisite stone carvings, some of them, which are of erotic nature. Other interesting sights on the way are Bambora Fort , Bhinder Rawla (fort) and the famous palace of Barishadri. In Boheda the riders will stay overnight in the ancient rawla of Boheda, which is in the possession of the Shaktawat family. Here they can listen to interesting family stories from the times of Jagairs and Maharajas and explore the rawla and hamlet of Boheda. The ride ends in the Sita-Mata Sanctuary ; a small protected Nature Park around the ancient Sita-Mata Temple. In this place the riders can glimpse a great number of peacocks, jungle foals and smaller mammals such as mongoose or rabbits, which appear to be rather tame.

Terrain: Open plains with little hills; see in the distance the Aravalli-Range
Pace of ride: Long trots and canters, open stretches invite for gallops

Our safari camps: Accommodation in most cases will be in a safari camp. The reason for this is that many of our routes lead through scarcely populated areas away from the usual tourist paths. So very often the night has to be spend in the nature away from human dwellings. However all of our campsites are chosen with great care and offer a maximum safety and superb views. Away from the busy Indian towns or villages they are a paradise for nature lovers and bird-watchers. Though away from civilization, our camp offers all necessary facilities to the riders. The tents are comfortable and inviting with double or single

Breakfast and dinner is served in our dining area, an open space with a sunroof, tables and chairs.
Breakfast is Continental style with fruits of the season, eggs and toast. Lunch will be either taken as package on the trail or brought to you by Jeep.
Dinner is a traditional 3-course menu of Indian food (non-spicy). Vegetarian food preparation is possible.
Our camp gives a very colorful impression, reminding of the hunting camps of the Maharajas. The tents made in the traditional Indian style with a roofed entrance where the riders can leave their shoes. Grouped around the dinning area they are encircled by a partition enclosure of cloth with a colorful rajasthani pattern.
--------------------------------------------------------------------------------------------

Please Note:

All Safaris can be made shorter or longer according to your wishes
Accommodation in Heritage/Resort hotels along the way is possible
50% booking charges are to be paid in advance at least one month before the safari in order to confirm the booking
The full safari rate has to be paid before the start of the safari
We give special group rates for more than 8 people
Extra charges for transporting the horses more than 150 km will be added to the safari rate
In case of a termination of the safari on behalf of the guests, no money will be refunded
We advise the guest to come one or two days before the start of the safari in order to get to know the horses
Free riding will be provided for our safari guests two days in advance of the safari
Each guest is advised to buy a travel and health insurance, as riding will be at own risk, Princess Trails is not liable for any accident, injury, property damage or death occurring during the safari
The wearing of riding helmets, proper riding breaches/shoes is recommended by the management